EDIT MAIN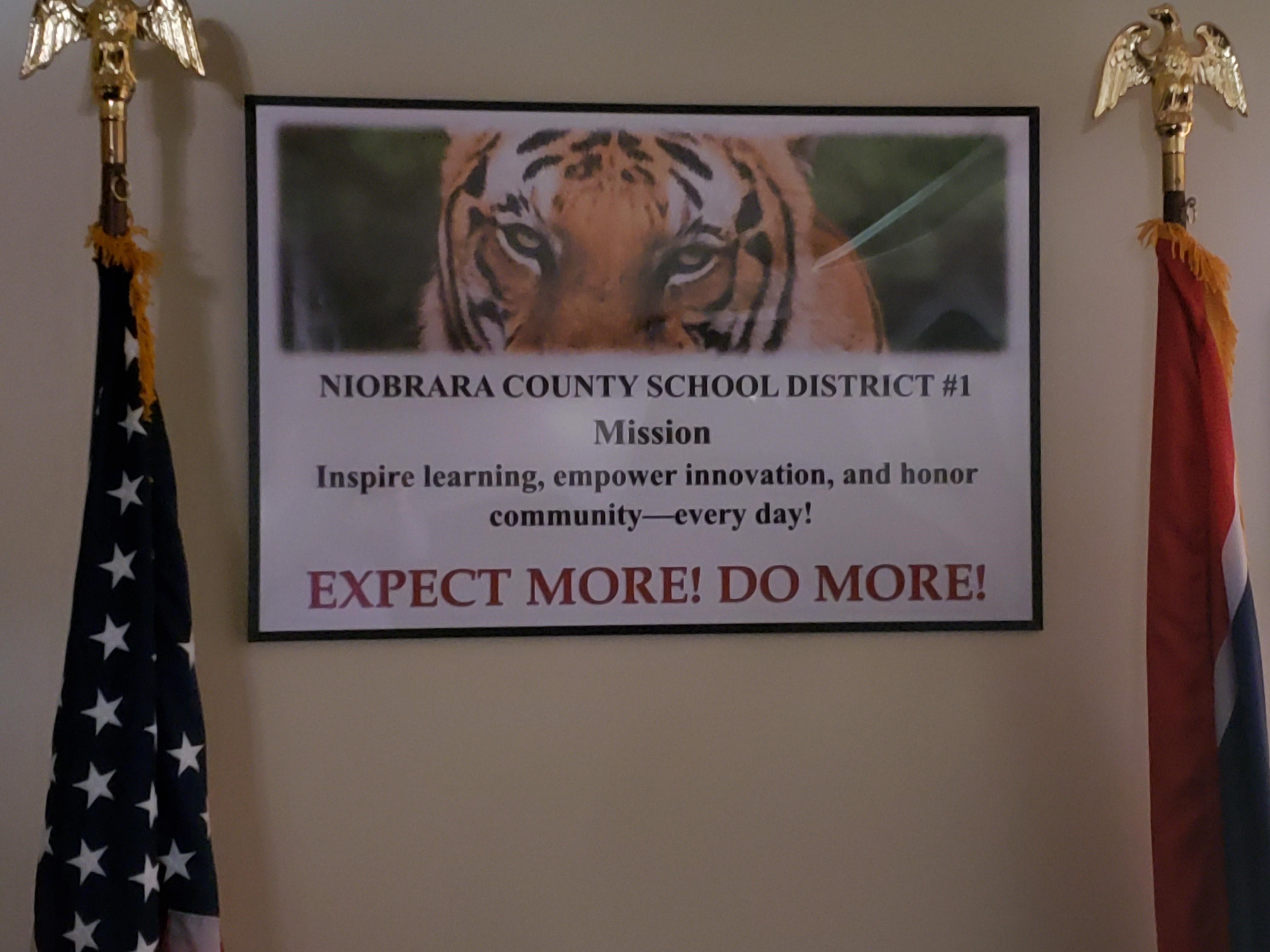 niobrara county school district administration
Our mission
Inspire learning, empower innovation, and honor community, everyday.
Our Vision
All students enter the world with the skills and confidence to meet their challenges and, in turn, grow and serve others.
CORE VALUES
T - Teamwork
I - Integrity
G - Gratitude
E - Empowerment
R - Respect
S - Success
... achieving excellence
MOTTO
Expect More! Do More!
Teacher Certification
All the teachers in Niobrara County School District are certified by the State of Wyoming and therefore are highly qualified. You have the right to ask about the certification of your child's teacher.
Non-Discrimination Statement
Niobrara County School District #1 does not discriminate on the basis of race, color, national origin, sex, age, or disability in admission or access to, or treatment or employment in its educational programs or activities. Inquiries concerning Title VI, Title IX, Section 504, and ADA may be referred to George Mirich, Superintendent, Niobrara County School District #1, 619 West Fifth Street, Phone 334-3793 or the Office of Civil Rights, Region VIII, U.S. Department of Education, Federal Building, Suite 310, 1244 Speer Boulevard, Denver, CO 80204-3582, or 303-844-5695 or TDD 303-844-3417.
Niobrara Recreation Grant
Niobrara County School District #1 Board of Trustees passed a one mill tax to fund a District wide recreation grant to allow residents of the School District to apply for money to fund recreational activities in and around Niobrara County. The tax is for one year and has to be renewed each year as the School District budget is passed in July. There is a five member board appointed by the District Trustees that oversees the grant process which includes 3 school board members and 2 citizens at large. Each year the grant committee meets in May and June to award the grants that have been approved. Patrons should use the accompanying form to apply for funds.
Asbestos Testing Plan
In accordance with 40 CFR §763.84.c, regard this statement as the district's annual notification to all workers, students and or their legal guardians that the district continues to maintain its Asbestos Management Plan (AMP) which documents all performed or planned asbestos related inspections, response actions, and post-response action activities, including periodic re-inspection and surveillance activities within the school district. A copy of this AMP is available for your review and or inspection at the District Office located at 619 West Fifth Street.
District Technology Plan