Home bball games tonight, HS wrestlers and ms bball away this weekend. Good luck to all! Shirts will be sold tonight at bball games for $5.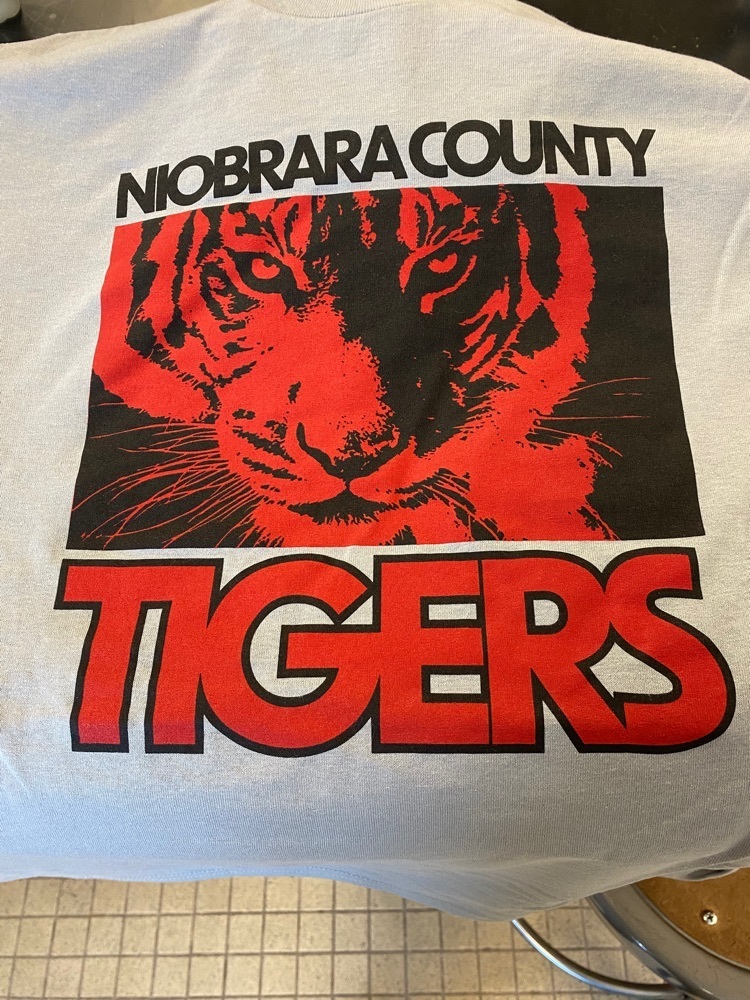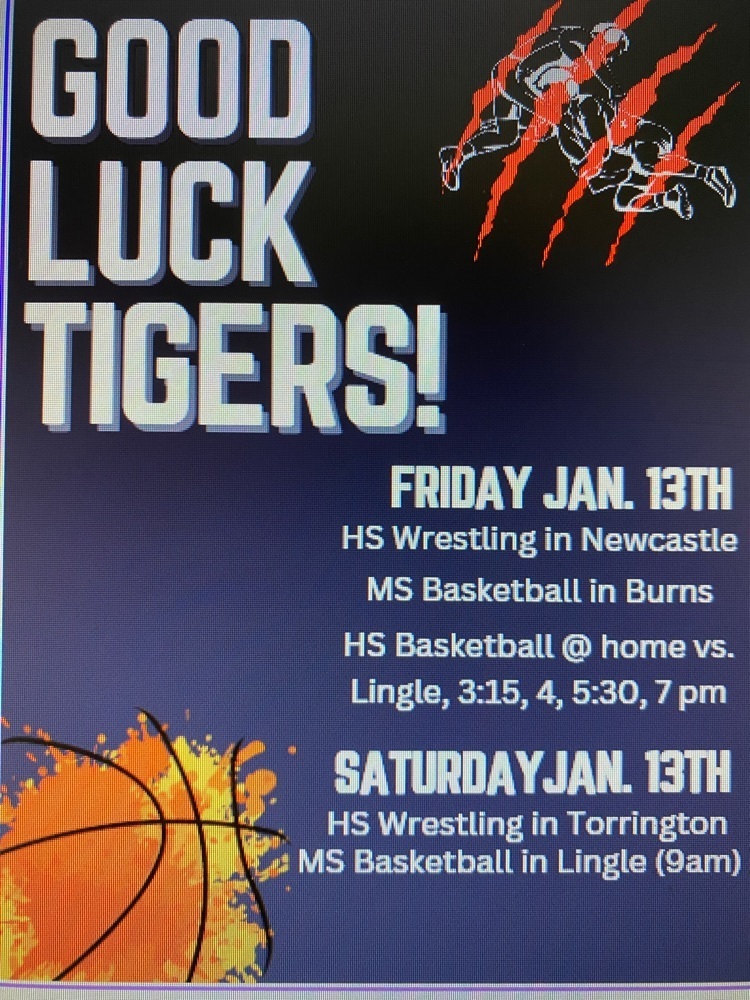 If you have a child or grandchild who attends LEMS, OR if you or someone you know is an employee of LEMS, OR maybe you'd like to be a vested party in the growth and success of our school, then you should consider joining us! Monday January 16th @ 5:30pm, LEMS Library 👩‍🏫🎒LEMS Community for Kids.🎒👩‍🏫 All are welcome and encouraged to attend! Hope to see you there!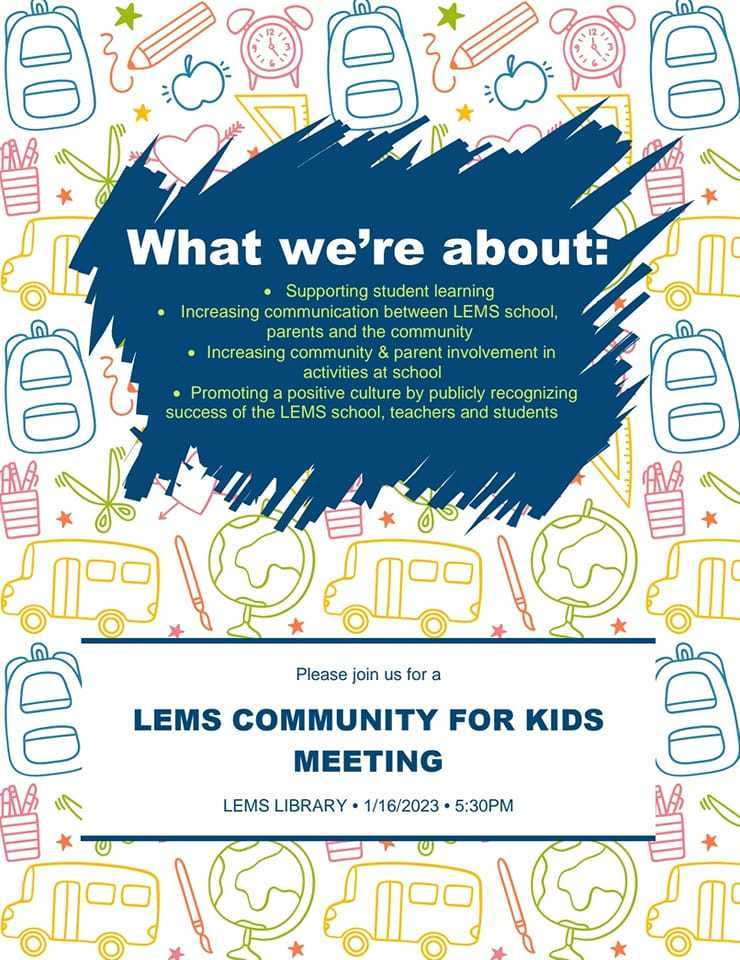 Good Job Seniors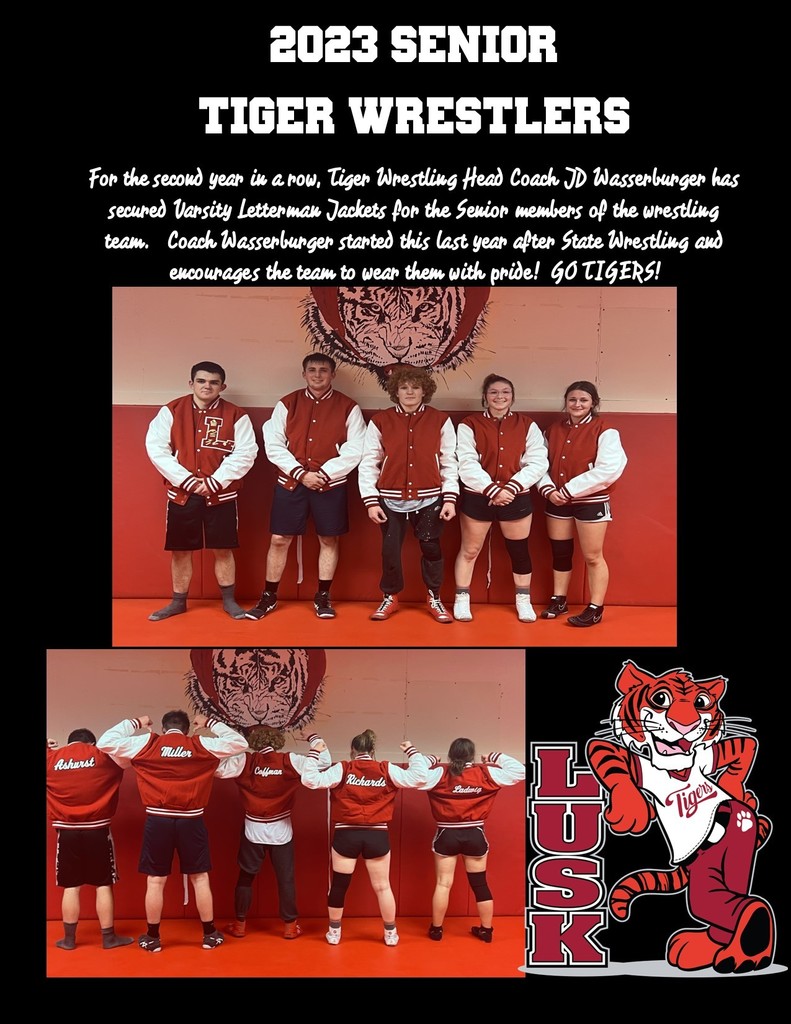 Reading is Fun (RIF) is postponed until Feb. 2nd due to weather.

Please plan to attend Reading is Fun (RIF) at the Niobrara County Library on 1/11/23 at 6:30 pm! RIF is a literacy-based program that is held by the Friends of the Library with support from FBLA and the Niobrara County Library. FBLA members will be performing a puppet show of the Three Billy Goats Gruff. Hope to see you there!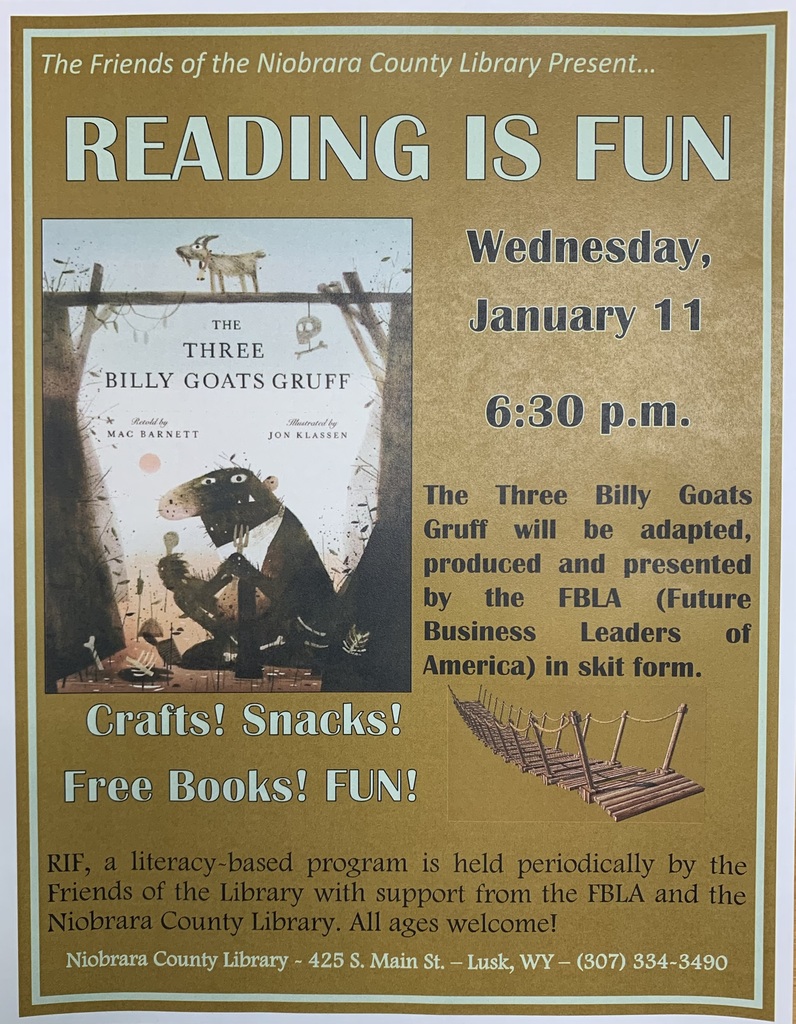 FBLA book drive date change. Due to postponement of games before Winter break FBLA moved the book drive date to Friday, Jan. 13th. If you bring a new or slightly used children's book to the game on Friday, FBLA will give you a coupon for a FREE bag of popcorn!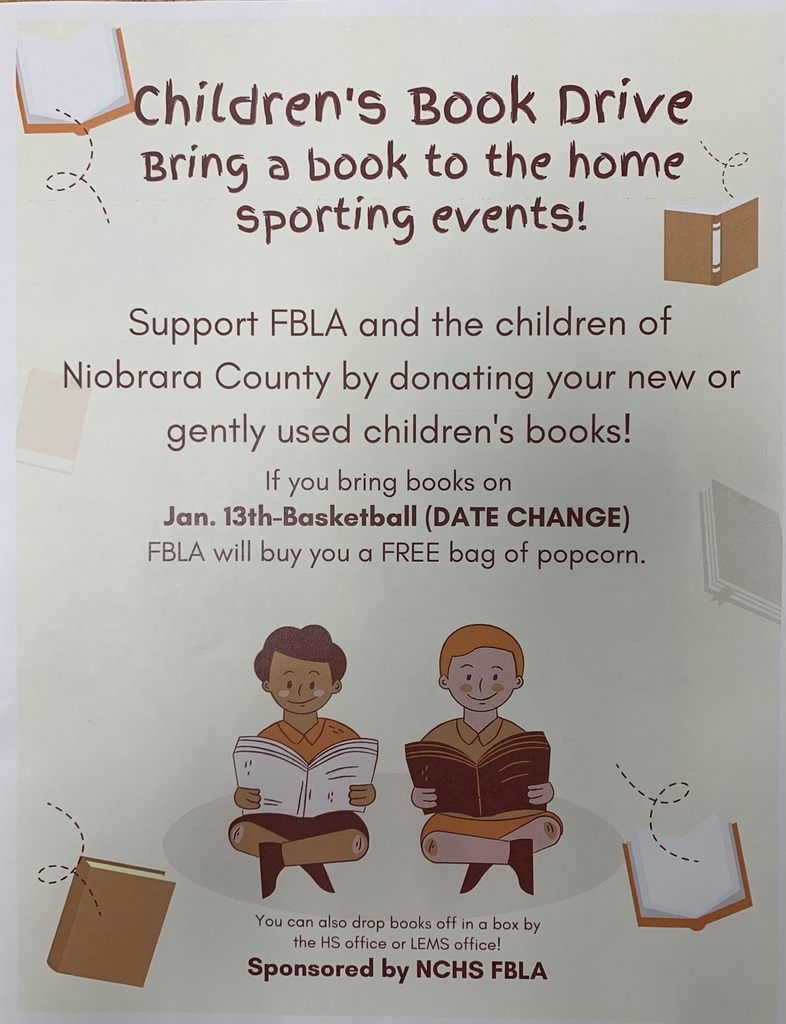 Please note a slight change to Friday's game against Lingle. Thank you 3:15 Girls JV - 2 qrts 4:00 Boys JV - full game 5:30 Girls V 7:00 Boys V All games will be played at the high school.

HSWR Schedule for Newcastle

MSBB Quad in Burns schedule: Elementary Gym 1:00 - Pine (Home Whites) vs. Lusk 2:00 - Burns (Home Whites) vs. Lusk C 3:00 - Burns (Home Whites) vs. Lusk B 4:00 - Burns (Home Whites) vs. Lusk A

MSBB North Quad Schedule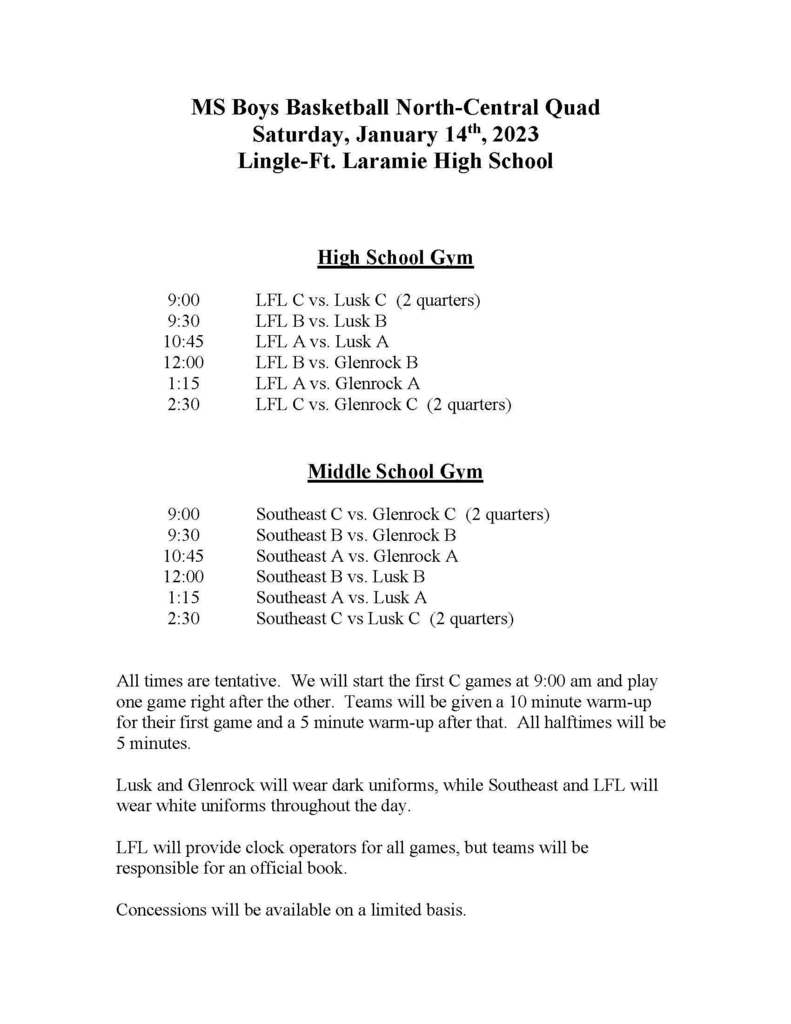 The High School just had a Fire Drill.

Rodeo Team Fundraiser March 17, 2023 Get your tickets from any rodeo club member or the High School Office! If you would like to donate to the silent auction please call the high school at 334-3320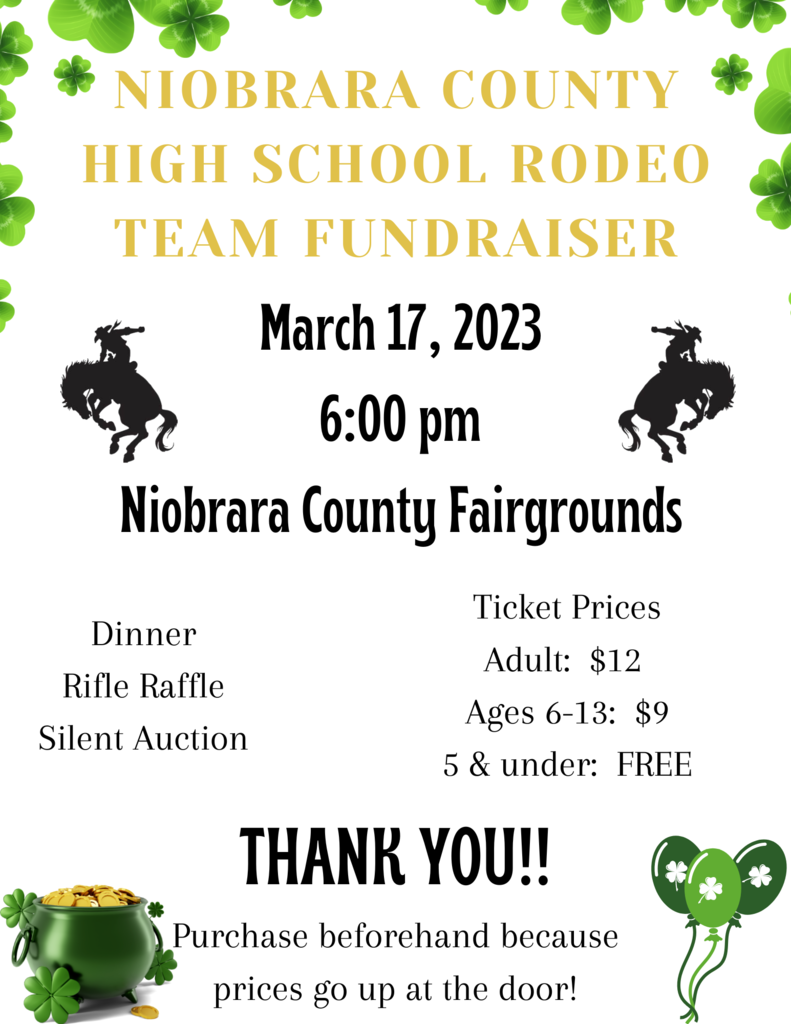 We will have a snow make up day on January 13, 2023 from 8:00 - 1:00 due to our snow day on December 21.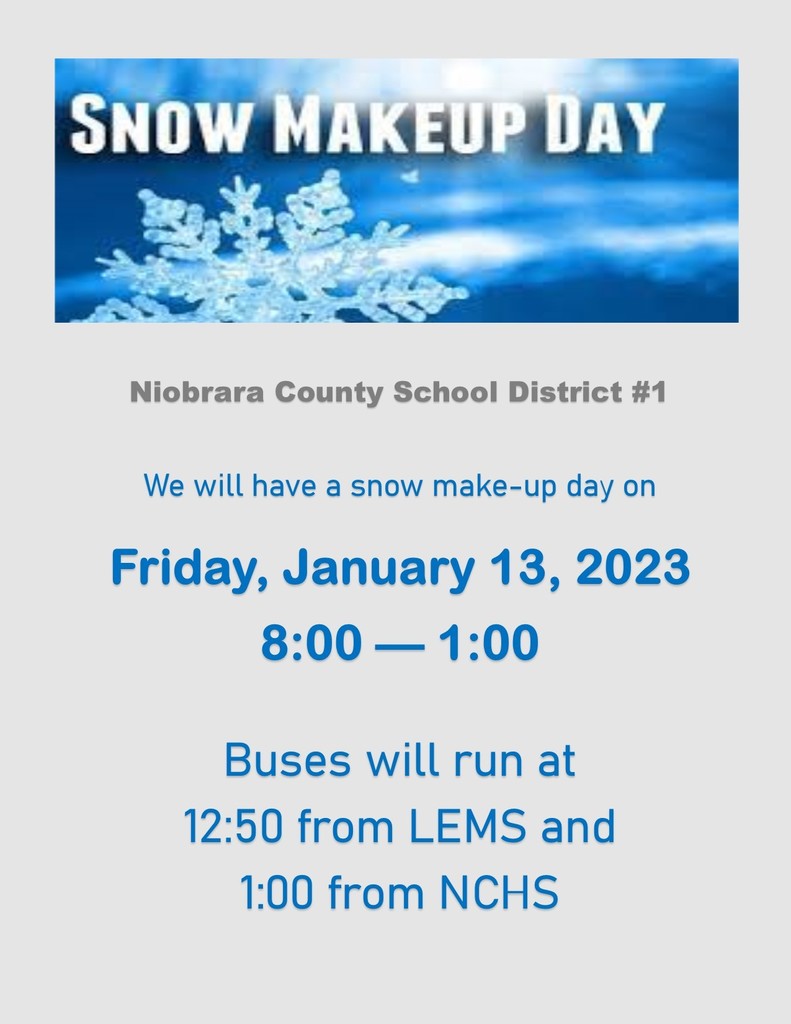 Menu for 1/4/22: Chicken ala King Fruit Salad Bar Milk Menu for 1/5/22: Meat lover's Pizza Veggies Breadsticks Salad Bar Milk

HSWR schedule for the Douglas meet.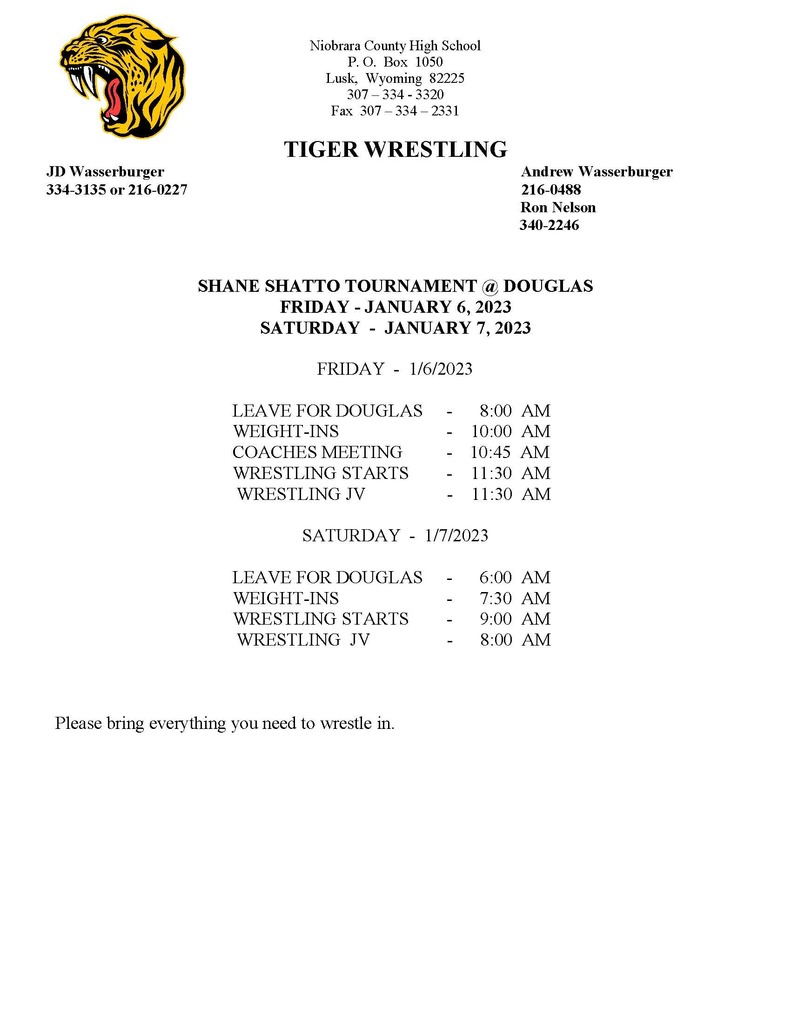 Lunch for tomorrow (Jan 3, 2023): Nachos Veggies Salad Bar Milk

Niobrara County High School is proud to announce that Phoebe Allbright was selected as one of only two students to receive and represent the state of Wyoming in the United States Senate Youth Program. According to the Hearst Foundation, the United States Senate unanimously passed a resolution in 1962 creating the UNITED STATES SENATE YOUTH PROGRAM (USSYP), a national nonpartisan initiative to provide an annual opportunity for talented high school students with demonstrated leadership abilities to deepen their understanding of America's political processes and strengthen their resolve to pursue careers in public service. The USSYP brings the highest-level officials from each branch of government to meet with this outstanding group of young leaders—two high school juniors or seniors from each of the fifty states, the District of Columbia, and the Department of Defense Education Activity (DoDEA)— for an intensive week-long education and leadership program to be held either in Washington, D.C., or online. The program is merit-based and highly competitive. Each student will also receive a $10,000 undergraduate college scholarship with encouragement to pursue coursework in history and political science. Now in its 61st year, the program has been fully funded since its inception by THE HEARST FOUNDATIONS as an enduring commitment to preparing young people for civic leadership in our participatory democracy. Numbering more than 6,000, USSYP alumni serve the country in many ways. They have become leaders in government, law, business, education, journalism, the military, medicine, health care, higher education, and many other fields. Alumni serve as elected and appointed officials at all levels of government, including a current United States senator, a current cabinet secretary, many congressional staff members, a former governor, former senior political advisors to the president of the United States, former ambassadors, and former federal judges. The commonality to all of their success is the desire to serve. The Wyoming USSYP 2023 representative Phoebe Allbright, is a junior at Niobrara County High School and serves as Wyoming Future Business Leaders of America's (FBLA) State Secretary. In addition to holding the State Office, she is the vice president of her local FBLA chapter and the secretary of her local Family, Career, and Community Leaders of America (FCCLA) chapter. She is a two-time national qualifier in both organizations. Phoebe is a member of her local National Honor Society chapter. She has been a representative in NCHS Student Council and has served her Class of 2024 as the treasurer since her freshman year. She also serves National FBLA as the Communications/Social Media Director of the Mountain Plains Region Council. Phoebe helps her community by volunteering at her county library alongside her FBLA chapter and helping her 4-H club host community service projects monthly. Her future plans include pursuing an undergraduate degree in business management.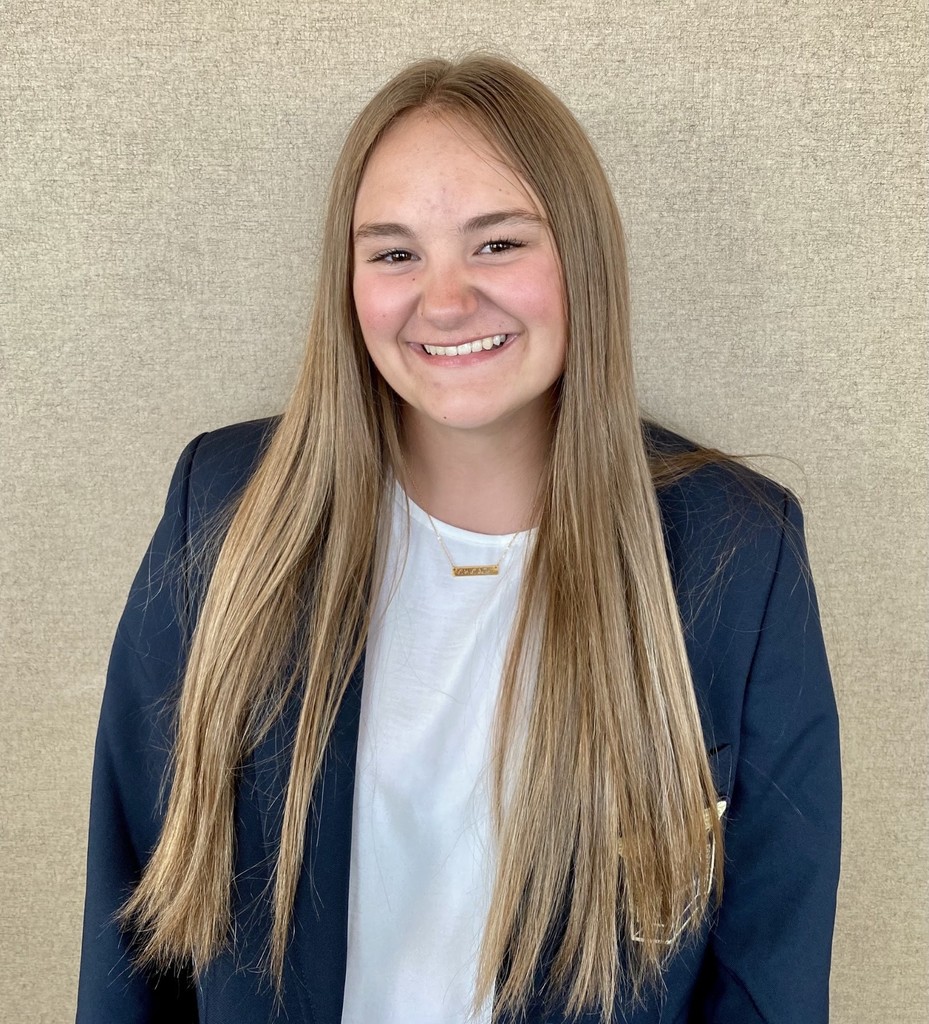 There will be no boys JV tomorrow January 3rd. Hemingford does not have enough players. Girls JV will start at 4:30 with 2 quarters with boys V at 5:30 and girls V 7:00.

The Lady Tigers truly appreciate all that our custodial staff does to keep our season running smoothly. We don't mind pitching in when we can!